With the diversification of the market in the healthcare sector, it is vital to track supplies to decrease the waste of discarded medicaments efficiently. As stated previously, the bar code scanners are the fitting solution to the problem as they are straightforward in use for staff and the organization itself. Implementing such devices also requires the development of computer-based or manual recordkeeping systems to ensure the effective monitoring of the supplies. However, healthcare institutions should evaluate numerous factors to choose efficient bar code scanners.
To begin with, when purchasing the devices, the healthcare institution must consider their quality, price, ease of use, clarity, and time consumption. These factors are crucial as the bar code scanners need to be not only affordable, but their price should match their quality and clarity for staff and the organization itself (Gunawardana, 2021). Furthermore, the hospital must evaluate the time consumed to track the supplies to choose the most efficient option (Gunawardana, 2021). There are numerous types of devices on the market from various firms, but the most popular ones are Symcode and Nadamoo (Stevens, 2021). That is why their performance should be thoroughly analyzed to ensure the productivity of the recordkeeping system of the hospital.
As the bar code scanners are essential for maintaining a productive recordkeeping system, the hospital must choose the most efficient option based on their prices, quality, clarity, and time consumption. Therefore, provided that the devices meet all the mentioned requirements it might result in enhancement of the supply monitoring. Furthermore, the healthcare institution may be able to productively analyze the need for medicaments and pharmaceutical products purchasing. A rational supply system of the hospital might contribute to decreasing waste of money and discarded or unused medicine.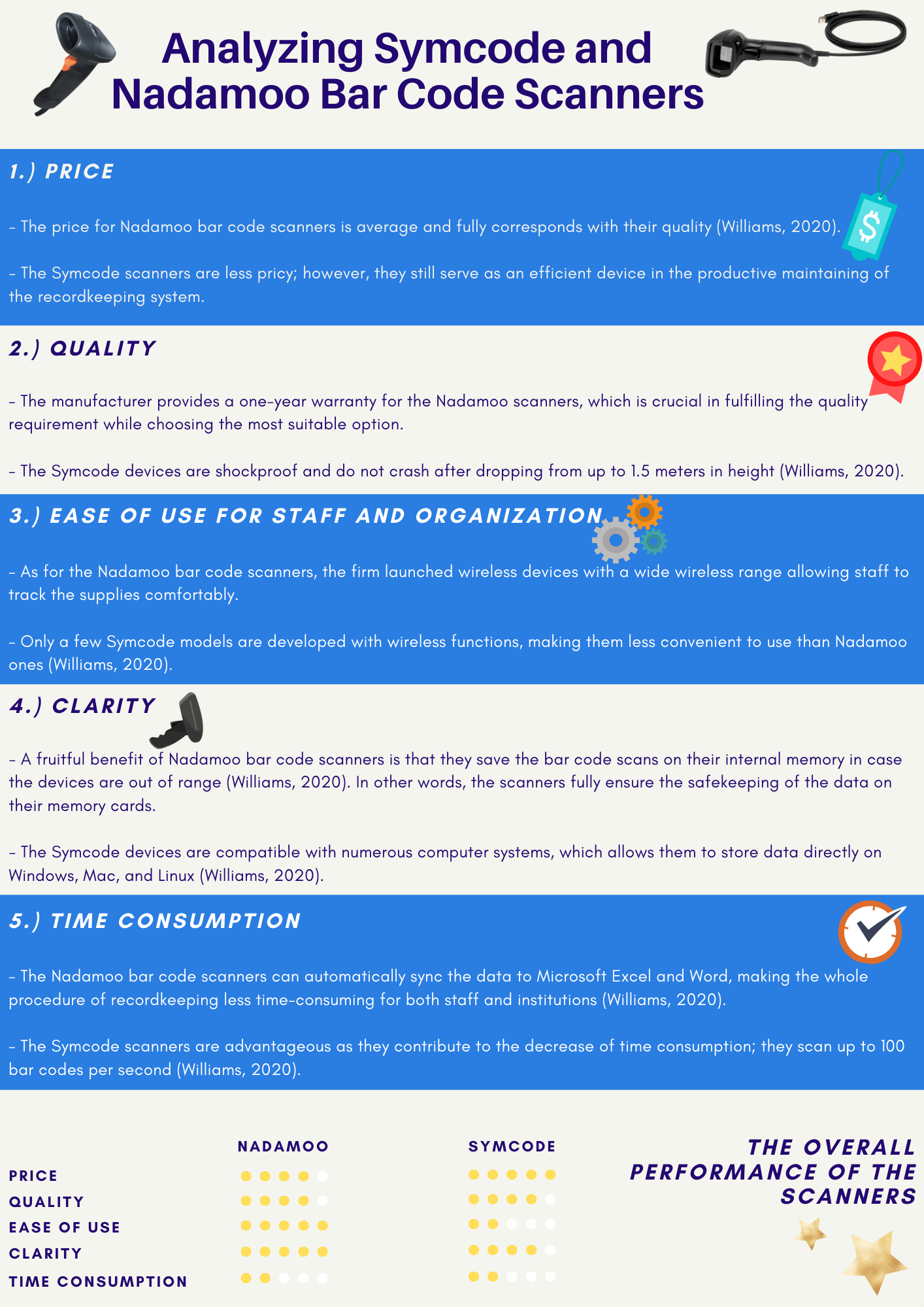 Having researched both Nadamoo and Symcode scanners, it is fair to claim that the first ones may seem more beneficial to implement in the healthcare sector. Nadamoo bar code scanners are not overpriced and are of high quality. Moreover, they have numerous functions that ensure the safe storing of data on their internal memory cards and various computer systems. The ability of devices to directly transfer the data to Microsoft Apps makes them comfortable and easy to use for staff and organization. Furthermore, they are beneficial for analyzing what medicaments the hospital should purchase as their amount is low and which are stored in abundance.
References
Gunawardana, T. (2021). What is the Best Barcode Scanner for Inventory Management? DEAR Cloud Inventory Management. Web.
Stevens, C. (2021). Best Barcode Scanners of 2021. Web.
Williams, A. (2020). The 8 Best Barcode Scanners of 2021. The Balance Small Business. Web.