Introduction
"Emirates Airlines" provides services for people who like to travel to different countries. As a rule, the firm's clients range from 25 to 55 years old and have above average and high incomes (Bhasin, 2019). The company is one of the world's largest airlines that provides the highest quality of services, the best entertainment and comprehensive meals. The corporation with confidence can count on maintaining leading positions and possible ways to expand because it has in the ratings of the best airlines (Emirates wins record 8th consecutive, 2021). Furthermore, "Emirates Airlines" has a rich history and a lot of enthusiastic reviews not only from critics but also from clients.
SWOT
According to Rahman (2021), "Emirates Airlines" has the following main positive and negative sides, as well as opportunities and potential threats.
Table 1
(S) Strengths

The world's largest fleet of aircraft
An immense span of operations
A wide range of different planes
Continuous expansion of flights
Positive brand image
Exceptional customer service
An extensive number of awards
One of the world's leading airlines
Diversity of nationalities among the personnel that makes the company global

(W) Weaknesses

The relative decline in demand for services in the United States
Several recent incidents
A negative trace in the minds of many people
Limited market share

(O) Opportunities

The opportunities to have more sponsorship agreements
The chances of expanding the firm and becoming famous all over the world
The possibility of creating budget airlines to increase the demand for the enterprise's services

(T) Threats

Presence of competitors
COVID-19 pandemic
Possible decline in tourism or any other political, economic, social problems in Dubai
Indeed, due to recent external disappointing circumstances, the company lost its "first place" in the rating to a competitor (Katz et al., 2021). Nevertheless, "Emirates" has always held a leading position, and even now, they are on the second line in demand among customers. In this vein, the strength lies in the fact that even despite COVID-19, the company does not seek to "give up."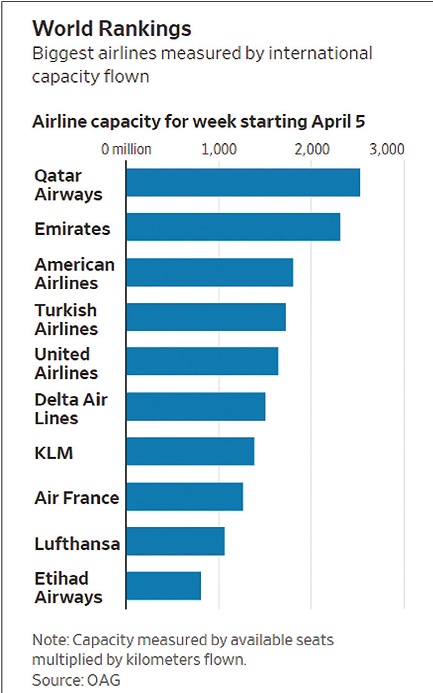 At the moment, "Emirates Airlines" has ample opportunities to implement its goals and plans, as it has many sponsors and funding sources (The Emirates Group, 2020).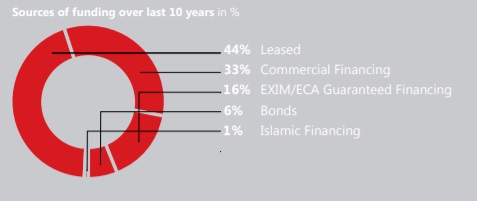 The organisation's main weakness is that now, most of the income comes from the European continent and not the American states, as it was before (The Emirates Group, 2020).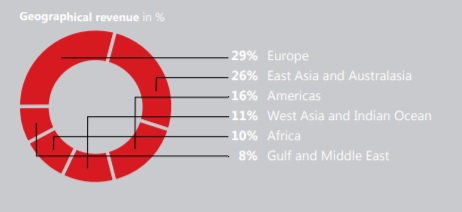 According to Puri-Mirza (2021), the company also faced in 2020-2021 one of the global external threats that directly affected the business – COVID-19.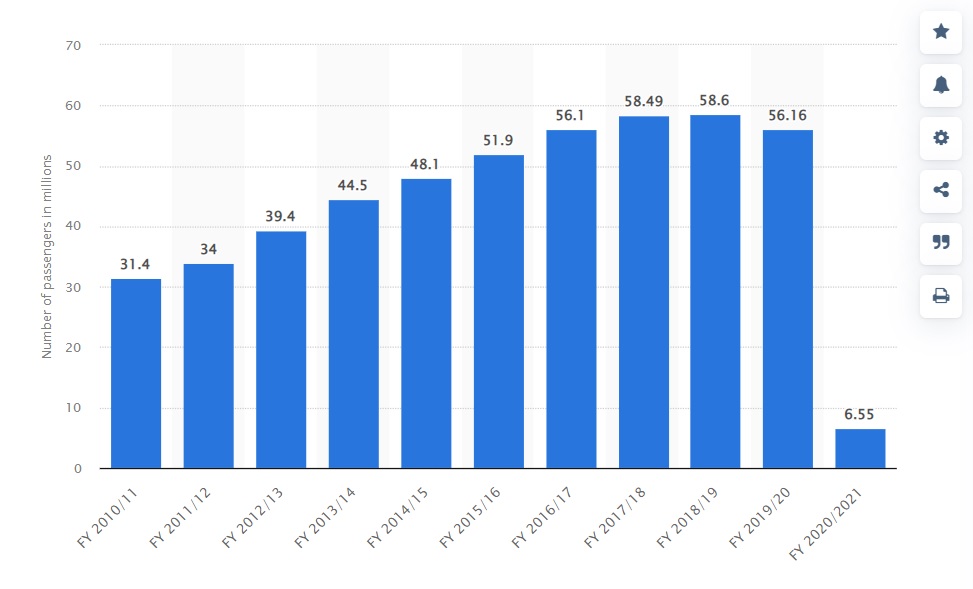 PESTLE
Table 2
P
(Political)
E
(Economic)
S
(Social)
T
(Technological)
L
(Legal)
E
(Environment)

Moderate level of political stability (about 70 percent)
Low level of violence
High support to the population

The consumer price index of UAE – about 109 %
The firm has its pricing strategy
High spending on vacation

The best technologies and innovation
A huge increase in IOT
Advanced virtual and augmented reality

Civil Aviation Law
Possible lawsuits

Huge pollution
Climate change
Goals and Objectives
Mission
One of the primary, essential missions of the company is to provide exceptional care for customers and high-quality service at all levels. "Emirates Airlines" strives to maintain international recognition and trust as one of the best and leading companies in the provision of investment services (Vision, mission & values, n.d.). To do this, the firm undertakes to perform its official duties carefully and competently and protect clients, personnel, and assets according to specific rules and standards.
Specific Goals and Objectives
The company's main and major goals are to maintain a leading position and a positive attitude towards the brand both within the region and beyond. It should be noted that "Emirates Airlines" also strives to expand its capabilities and prospects and implement services on all continents and countries. Thus, in order to achieve these goals and desires, the enterprise sets itself the following key objectives.
Progress in all aspects.
Confirming profitability in all operations.
Ensuring reliability and trust among customers, improving the brand image.
Striving for innovation and new achievements.
Increasing mobility, aiming to unite people around the world.
Strategies
Based on the mission and values of the organization, "Emirates Airlines" mainly focuses on global expansion, customer satisfaction, maintaining a leading position, and ensuring particular independence and global competitiveness. Currently, the company has two main strategies: cost reduction approach and quality of service before, during, and after the flight. The firm uses unique tactics and strategies to perfectly determine the ratio and correlation of prices and opportunities provided to clients. In addition, "Emirates Airlines" uses the latest technologies to increase passenger traffic and reduce costs. Furthermore, this organization offers its clients a relatively wide and unique range of services to implement rich, vivid impressions of flights and an exciting pastime in the waiting rooms before departure and after arrival. There is a cozy atmosphere, comfortable places, excellent entertainment, the best communication, and integrated in-flight catering on board the aircraft.
Marketing Activity (Initiative)
The main tactic used by "Emirates Airlines" in "daily", "common" practice is segmentation. The company uses geographical, socio-demographic and psychographic segmentation to develop the best, unique offers for the target audience (Bhasin, 2019). For example, "Emirates" provides services in entirely different geographical segments, thereby adapting and adjusting to various cultures for their further understanding, analysis and comprehension (The Emirates Group, 2019). Furthermore, the organization deliberately identifies the "best" target group – working-class representatives, business people with families. Therefore, in the company's advertising, you can often see men and women traveling in business suits (The Emirates Group, 2019). Nevertheless, by and large, the firm focuses on the audience with high incomes. Moreover, "Emirates Airlines" values precisely those people who appreciate the standard of living "on a grand scale" and can incur the costs of luxury flights. Segmentation, in this way, allows one to meet the needs of each customer to build a friendly and trusting relationship between consumers and the brand. Moreover, according to Shastri (n.d.), "Emirates Airlines" adheres to reasonably traditional, conservative approaches to customer segmentation:
The division of clients into business people and travelers sensitive to prices.
Separation based on customer loyalty.
Separation of consumers based on interests, preferences, desires, lifestyle, behaviors and opinions.
Actions
According to the official data provided on the website, the following conclusions can be drawn about the persons responsible for making decisions and actions regarding marketing campaigns. Thus, Adnan Kazim has developed several commercial solutions since 1992 (Leadership team, n.d.). Due to Kazim's high competencies, he ensured retail success for "Emirates Airlines." One can note that this person plays a crucial role in creating well-being of the company, and it is he who is responsible for the success or failure of specific marketing tasks.
Measurements and Feedback Mechanisms
One of the relevant mechanisms for measuring feedback is the critiques of reviewers, employees and customers and the presence or absence of awards. Feedback tools will identify the positive aspects of the company's actions to consolidate them on an ongoing basis (Armstrong et al., 2019). Accordingly, negative elements will help learn specific lessons, experiences, knowledge, and conclusions to avoid repeating mistakes (Armstrong et al., 2019). Moreover, it is necessary for building a competent strategy to eliminate existing and possible problems.
References
Armstrong, G., Kotler, P., & Opresnik, P.M.O. (2019). Marketing: An introduction (14th ed.). Pearson.
Bhasin, H. (2019). Marketing strategy of Emirates – Emirates marketing strategy. Marketing91. Web.
Emirates wins record 8th consecutive Best Airline Worldwide award, racking up three honours at the Business Traveller Middle East Awards 2021. (2021). The Emirates Group. Web.
Katz, B., Jones, R., & The Wall Street Journal. (2021). How Qatar Airways dethroned Emirates as biggest long-haul airline. Bangkok Post. Web.
Leadership team. (n.d.). The Emirates Group. Web.
Puri-Mirza, A. (2021). Number of Emirates passengers from FY 2010/11 to FY 2020/21. Statista. Web.
Rahman, M. (2021). Emirates SWOT – a SWOT analysis of Emirates airline. How And What. Web.
Shastri, A. (n.d.). Complete marketing strategy of Emirates Airlines. IIDE. Web.
The Emirates Group. (2019). Annual report.
The Emirates Group. (2020). Annual report. Web.
Vision, mission & values. (n.d.). The Emirates Group Security. Web.