One of the most critical issues in healthcare that remains largely unresolved is the growing shortage of nursing personnel. As the average age among the population of many countries grows older, the need for highly trained nursing personnel continues to increase. There are several well-known factors that have an adverse effect on turnover rates among nurses, yet there is no clear path to prevent this from happening. Moreover, unpredictable events, such as the current pandemic, can drastically change the situation for the worse in a matter of weeks (Pennic, 2021). This paper will analyze solutions to the global shortage of nurses and draw recommendations based on the most suitable proposed approaches.
Background of the Issue
Shortages on nurses take massive tolls on global public health. As an example, the COVID-19 pandemic has revealed major flaws in the healthcare system that are associated with insufficient nurse staffing that led to unreasonably high mortality rates (Pennic, 2021). According to the analysis of the World Health Organization, the world currently needs approximately nine million more nurses (Drennan & Ross, 2019). The United States will be severely affected by this growing gap in staffing (Figure 1) (Kavilanz, 2018). However, there is no universal solution, yet many individual institutions experiment with staffing policies.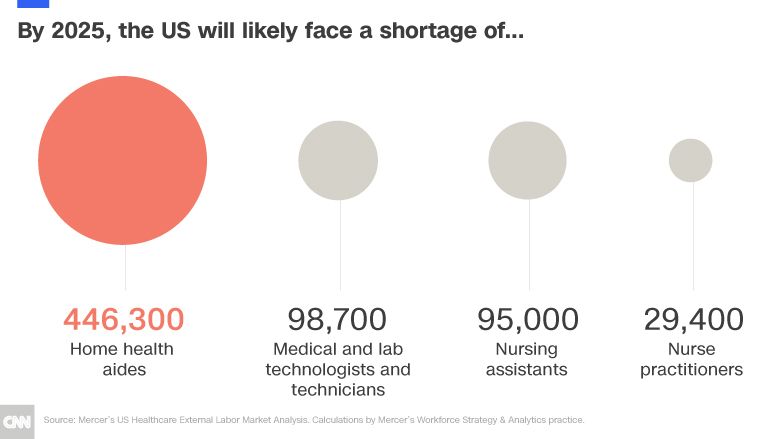 Financial incentives provide only temporary improvements when done without a proper direction. There is a need to come with long-term ones before the aging population increases in proportions to a critical point (Dufilho, 2021). Therefore, only such solutions will be evaluated for their feasibility. There are several primary reasons why it is difficult for organizations to achieve necessary retention rates among nurses (Figure 2). While the elimination of these issues is impossible at this moment, there are ways to alleviate them.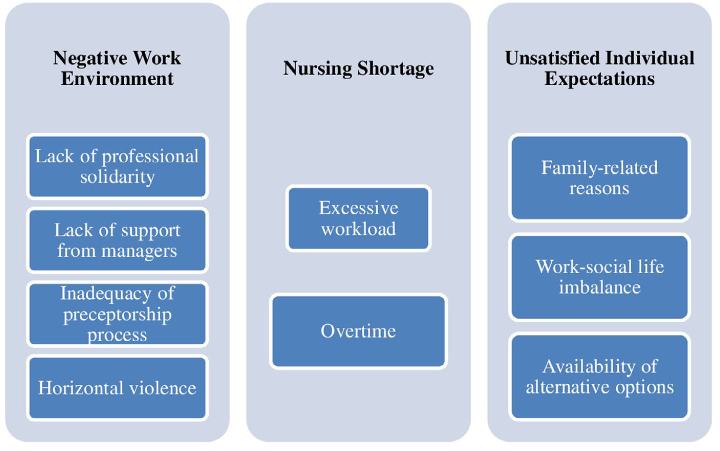 Explanation of Solutions
There are several solutions that are proposed by modern researchers. It is essential to eliminate or, at least, reduce the impact of the primary causes of high turnover rates among nursing personnel. A significant part of this unsatisfactory outcome stems from improper workplace conditions, such as working overtime and having too many tasks simultaneously (Çamveren et al., 2020). Two distinct solutions to this issue that will be discussed are the improvement of technological utilities used in healthcare and the advancement of educational facilities and their efficiency.
First of all, the mass implementation of information technology solutions into the healthcare facilities' operations can help nurses by reducing their workload. The quality of healthcare continues to increase alongside technological advancement and research breakthroughs. However, this notion also makes the education of healthcare personnel more costly and time-consuming. There are several innovative methods that can reduce the burden of nurses by addressing common causes for slowdown and stress in the workplace. IT additions, such as telesitting, telehealth, mobile staffing applications, and AI-assisted decisions, can help nurses with many daily routines (Scott, 2021). While these solutions may be costly, they can serve as starting points for new additions in the future.
The second solution lies in the proper preparation of nurses for their roles in healthcare institutions. Nursing is an extremely stressful career with one of the highest turnover rates across the industries (Daniel & Smith, 2018). This stress only increases when the workforce is insufficient for dealing with the current situation, and the lack of highly skilled nurses is directly linked with higher burnout rates (Marć et al., 2018). Nurses continue to leave healthcare facilities to seek other job opportunities or increase their qualifications (Galehouse, 2019). However, this leads to gaps in the workforce that only speed up the cycle of an increased shortage of nurses (Figure 3). There are examples of successful integration of training and mentoring into a hospital's workflow that significantly increase retention rates of nurses (Galehouse, 2019). Therefore, healthcare facilities need to expand their support for nurses who want to visit training courses through financial and accommodational solutions.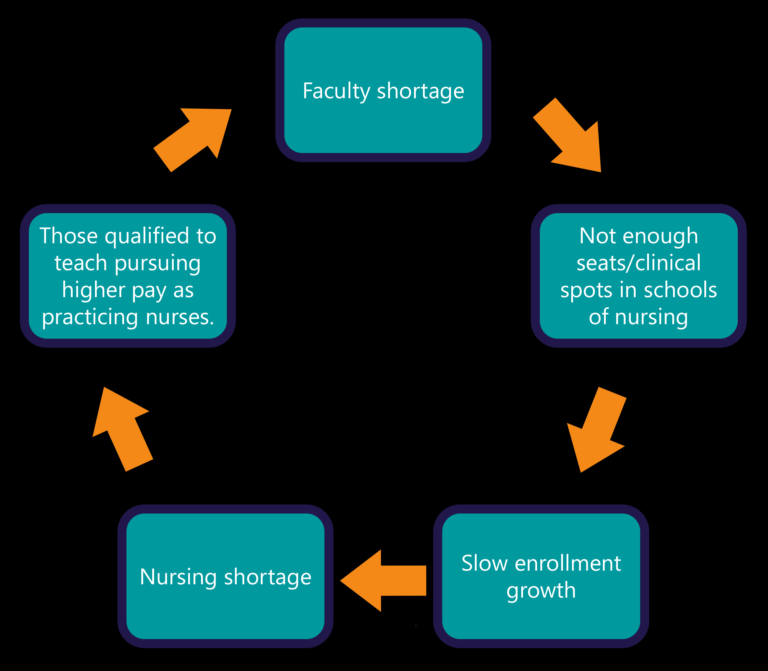 Comparison and Discussion of Solutions
There are several criteria that have significant weight in this issue. First of all, the long-term and short-term effects of each solution should be taken into consideration. The preference should be given to long-term impact, as this type of issue is the most challenging to resolve through traditional incentives (Larson, 2017). However, the elimination of short-term adverse effects on healthcare facilities should also be taken into consideration, as staffing shortages that stem from an increased focus on training can harm the current state of hospital affairs ("Demystifying the nursing shortage," 2018). The presented solutions have different areas that they cover better than the other, implying the need for a mixed approach (Table 1).
Table 1: Comparison of Two Nurse Shortage Solutions
| | | |
| --- | --- | --- |
| Criteria | IT systems expansion | Improvements for educational policies |
| Long-term impact | Timely modernization of processes is essential in healthcare, as nurses can help researchers with research and development by providing feedback while learning how to utilize new technologies. Through this cooperation, nurses can receive products that will reduce the primary stress sources. | There are existing efforts for increased training of personnel that can accommodate ever-evolving skill requirements. Mentoring can help organizations reorganize their workplace environments, reducing turnover rates. |
| Short-term impact | The negative impact stems from the need for additional training of personnel on the usage of new technologies. | The positive impact of higher retaining rates is due to opportunities for mixing work with training. |
References
Çamveren, H., Arslan Yürümezoğlu, H., & Kocaman, G. (2020). Why do young nurses leave their organization? A qualitative descriptive study. International Nursing Review, 67(4), 519-528. Web.
Daniel, K. M., & Smith, C. Y. (2018). Present and future needs for nurses. Journal of Applied Biobehavioral Research, 23(1), e12122. Web.
Demystifying the nursing shortage. (2018). NursingCAS. Web.
Drennan, V. M., & Ross, F. (2019). Global nurse shortages—the facts, the impact and action for change. British Medical Bulletin, 130(1), 25-37. Web.
Dufilho, M. (2021). Nursing shortage – Causes and solutions for hospitals. Always Culture. Web.
Galehouse, M. (2019). What's behind the nursing shortage? How can we fix it? Texas Medical Center. Web.
Kavilanz, P. (2018). The US can't keep up with demand for health aides, nurses and doctors. CNN. Web.
Larson, J. (2017). Creating solutions to the nursing shortage | NurseZone. Travel Nursing Agency. Web.
Marć, M., Bartosiewicz, A., Burzyńska, J., Chmiel, Z., & Januszewicz, P. (2018). A nursing shortage – a prospect of global and local policies. International Nursing Review, 66(1), 9-16. Web.
Pennic, J. (2021). Nurse staffing shortage: 5 policy solutions to address national crisis. Healthcare IT News. Web.
Scott, J. (2021). How technology can alleviate effects of the nursing shortage. Technology Solutions That Drive Healthcare. Web.