A lip balm made at home is a credible alternative to the one bought in a store. Not only does it require few ingredients and supplies to make it – the process is also entertaining and undemanding! Additionally, by applying a lip balm made by yourself, you can be absolutely positive that no harmful substances went into it. Moreover, a nicely decorated tube of lip balm can make an amazing gift for your friends and loved ones! Five steps listed below are easy to follow along – and the illustrations attached will help to make certain that things go according to plan.
Ingredients (for 12 ounces of lip balm)
½ cup of beeswax. Beeswax is sold in pellets or pastilles and can be bought directly from beekeepers on any e-commerce cite.
½ cup of butter. Cocoa, shea, and mango butter are among the most popular choices.
1 cup edible oil of high quality. Olive, sunflower, sweet almond, and hemp seed oil are the most popular choices. As an option, several oils can be combined.
Essential oil. Optional, for stronger scent. The amount depends on the preferred scent intensity. However, be cautious: no more than 1 teaspoon per 1 cup of edible oil is to be used.
Supplies
A double boiler. Alternatively, a stainless steel bowl can be nested inside a bigger pot.
Containers of choice (to store the lip balm in). Options include tins of various sizes (1/2/3 ounce tins), small plastic tubes or glass jars, lip balm tubes, and so on.
A measuring cup or a small pitcher. Optional, for more convenient measurement.
Instructions
Tip: Check for all the ingredients and supplies to be ready before beginning.
Measure or weigh the ingredients – wax, butter, and oil – in accordance with the proportions (see Appendix A). Add them into a double boiler's top portion – or, alternatively, into a bowl put on top of a pot. Make sure to pour enough water in a double boiler's lower portion/pot: the top pan/bowl's bottom has to rest in water. If your beeswax or butter is not comfortable to measure, do not let it discourage you: break or mash pastilles/wafers so they could fit into a cup.
Appendix A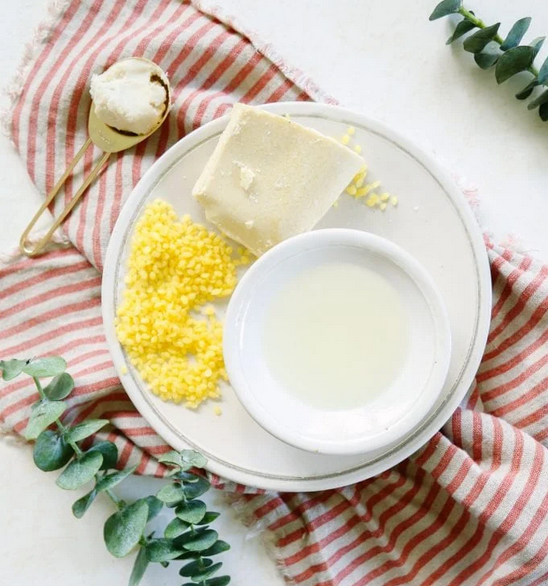 Put the heat on medium-high and heat the mixed ingredients. Stir occasionally until they all melt and combine completely as shown in Appendix B below. While heating, do not cover the pot's top: water's condensation can affect the lip balm's texture negatively.
Appendix B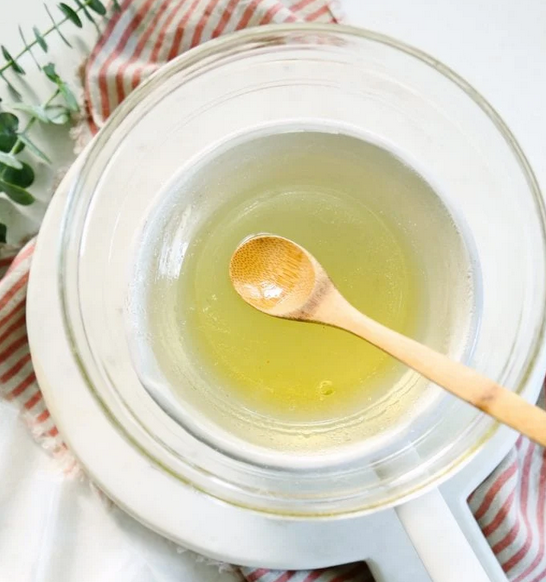 Appendix C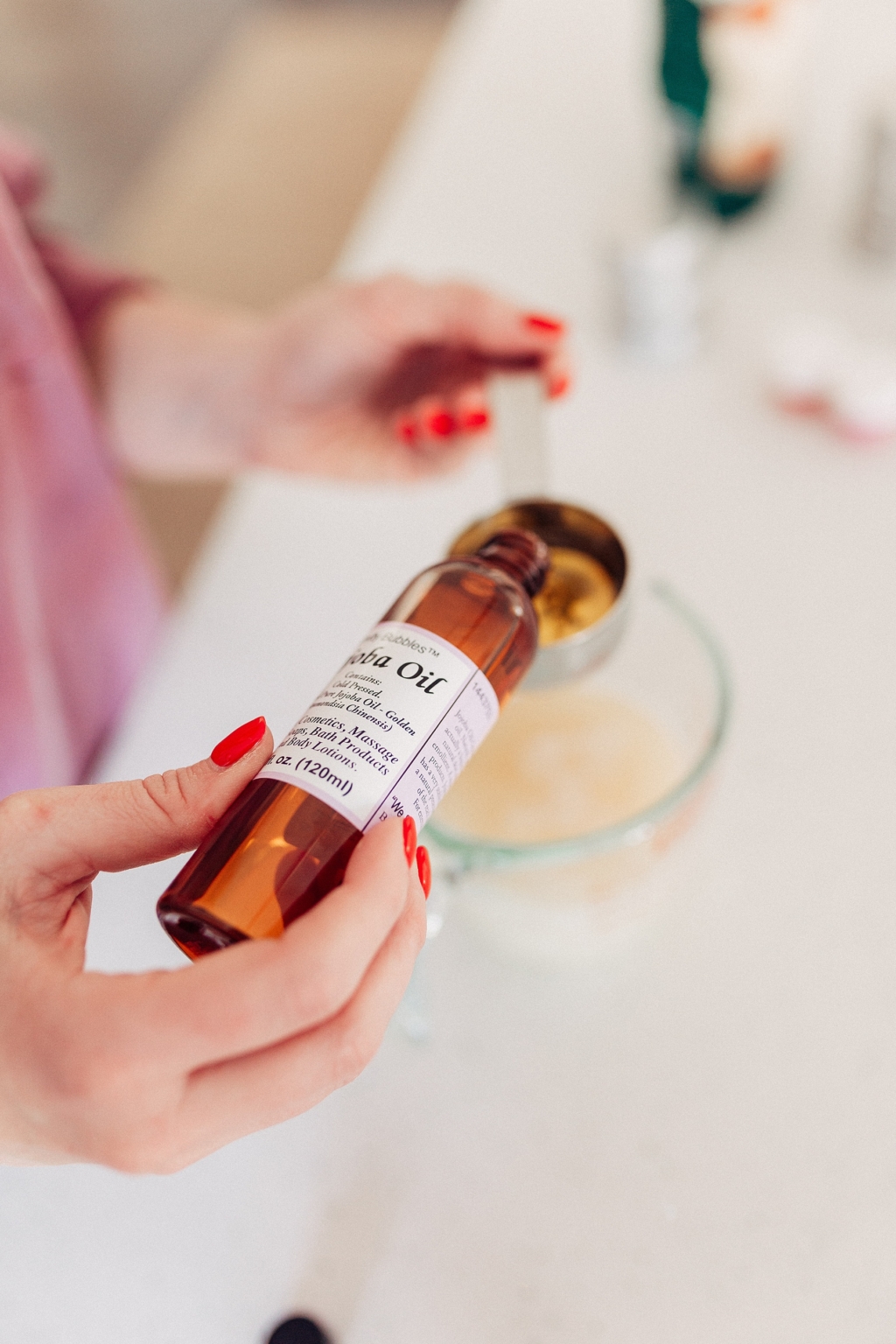 If you choose to add essential oils – as seen in Appendix C above – turn off the heat and remove the pot from the burner before doing it. Oils, being very volatile, will simply dissipate near high heat before mixing with the balm.
While the liquid is hot, pour it into the containers that you have chosen. Tip: instead of transferring the mixture straight into small containers, it might be more comfortable to first remove it from the pot into a measuring cup. After that, it can be poured into containers from there – Appendix D below shows the procedure. If your measuring cup is a glass one, it is recommended to heat in a microwave for thirty seconds before pouring the lip balm in there. This way, the mixture does not cool too quickly or sticks to the cup's walls. In case of liquid's hardening before you are finished with pouring, turn the heat on to melt it again.
Appendix D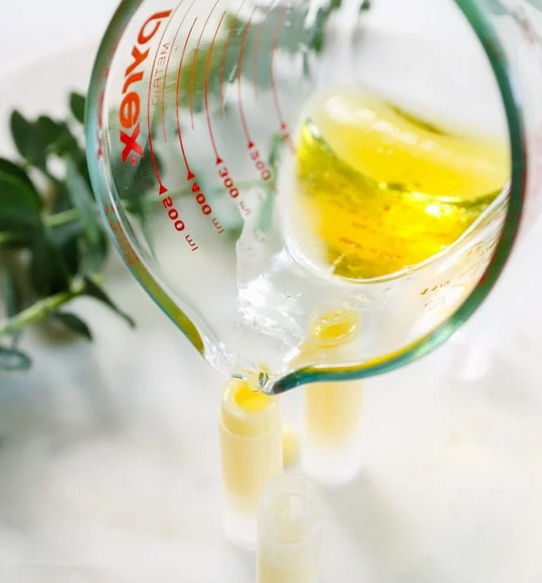 Appendix E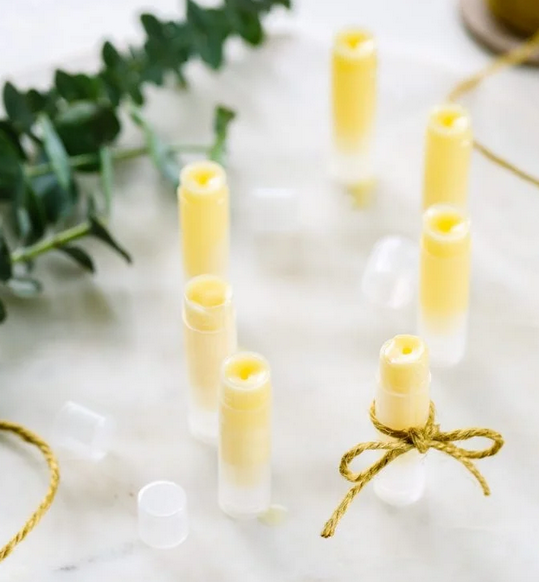 Wait until the lip balm is fully cooled and hardened – as shown in Appendix E above – to add caps or lids to the containers and decorate them to your liking.
You are finished! Enjoy lip balm of your own making! Share the recipe with your friends or invite them over to make a portion together!
References
New, E. (2020). Three ingredient lip balm recipe. Frugal Farm Wife. Web.
Smith, A. (n.d.). How to make lip balm in 5 easy steps. Twist Me Pretty. Web.